Joy Zimmerman Visits KPR Live Studio Ahead of Performance at Lied Center
On Sunday, April 23, Kansas City singer-songwriter Joy Zimmerman was featured in the KPR Live Performance Studio, ahead of her upcoming performance at the Lied Center Pavilion. She will join folk-duo Ordinary Elephant during KPR's Trail Mix concert on May 4 at 7:30 p.m. Tickets to that event are available here.
During her time in the studio, Zimmerman shared with listeners several of her own tracks, allowing for a taste of what she'll have to offer at the concert. She has produced eight albums since 2013, including the latest two produced in 2021, The Canvas Before Us and Shed a Little Light - Live.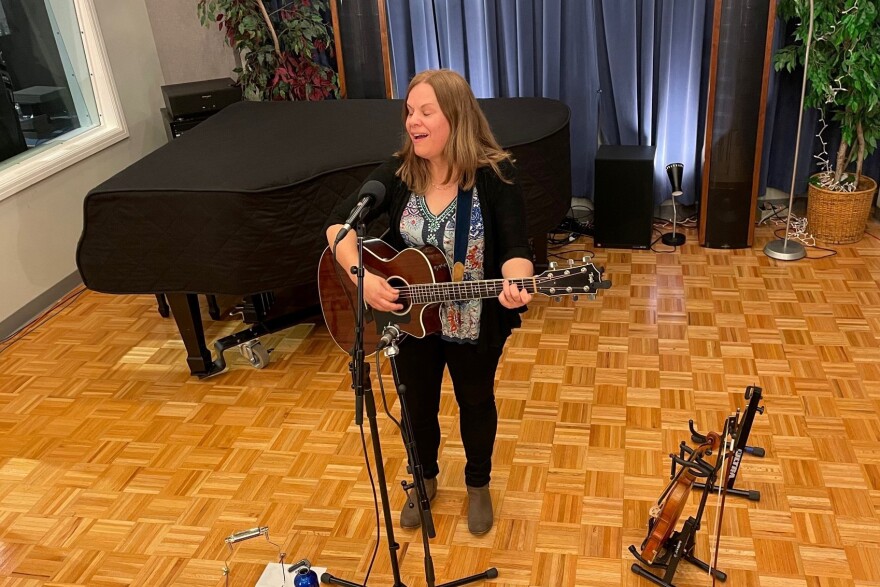 Born on Shakespeare's 400th birthday, Zimmerman equates that to her love and natural ability for writing. Alongside her singing and songwriting, Zimmerman is a talented guitarist and fiddler, and performs on both instruments independently and while touring with a variety of other musicians. She is the recipient of several awards, including a top album award for The Canvas Before Us from the Folk Alliance International Folk Chart in 2021, and is a ten time winner of the Walnut Valley Festival NewSong Songwriting Contest.
More information about Joy Zimmerman and her music is available at joyzimmermanmusic.com.
In case you missed it, check out her performance from the Live Performance Studio below.
Joy Zimmerman - Keeping Vigil
Joy Zimmerman - Prairie Wind
Joy Zimmerman - Roach on a Hot Griddle
Joy Zimmerman - Bob and Me
Additional video available on KPR's Youtube Channel. Video courtesy of KPR production engineer Chuck Smith.