Headlines for Wednesday, November 4, 2015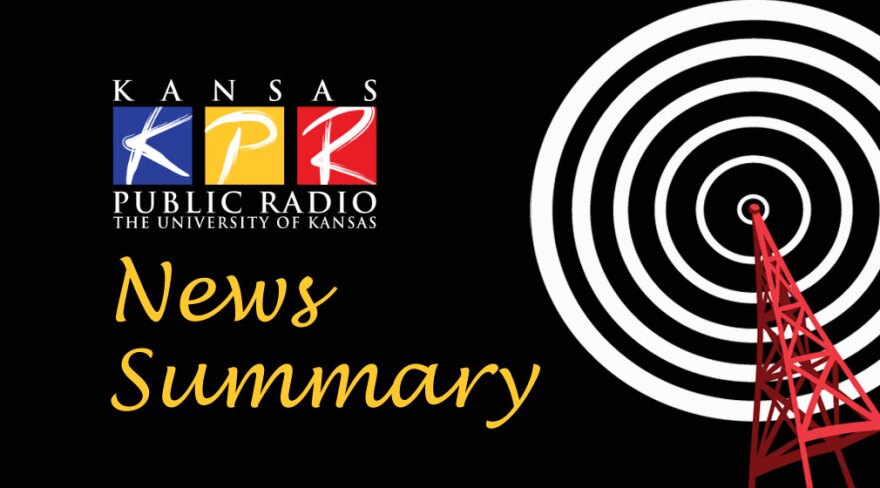 Kobach Defends Participating in Conference
TOPEKA, Kan. (AP) — Kansas Secretary of State Kris Kobach is defending his participation in a conference organized by a group that's been called "anti-immigrant." Kobach gave a presentation last week in Washington for The Social Contract Press, which the Southern Poverty Law Center considers an anti-immigrant hate group. The SPLC, which tracks hate groups, accuses The Social Contract Press of publishing race-baiting articles. Kobach told The Kansas City Star that criticism of the conference was "outrageous" in part because it included many minority presenters. Kobach also says opposing illegal immigration doesn't mean an organization is anti-immigrant. Kobach has championed Kansas's strict voter registration law, which requires proof-of-citizenship documents. The Social Contract Press is a publication of U.S. Inc., whose executive director, K.C. McAlpin, described the SPLC's characterization of the group as "pretty ridiculous."
=======================
Man Accused of Voter Fraud in Kansas Wants Charges Dismissed
GOODLAND, Kan. (AP) — A lawyer for a man charged with voting illegally in western Kansas says the case should be dismissed because Secretary of State Kris Kobach isn't prosecuting it personally. Defense attorney Jeffery Mason filed a motion Tuesday attacking the three felony and seven misdemeanor charges against Lincoln Wilson in Sherman County District Court. Kobach's top assistant filed the case last month. Wilson's first court appearance was Tuesday. He is accused of voting illegally in Sherman County in 2010, 2012 and 2014 while also voting in Yuma County, Colorado. Wilson owns property in both. Mason contends a new state law allowing Kobach to prosecute such cases requires the secretary of state to handle them personally. Kobach's office disagreed Wednesday and called the motion "perfunctory." A hearing on the motion is December 7.
=======================
Consulting Firm's CEO Named New Kansas Commerce Secretary
TOPEKA, Kan. (AP) — Governor Sam Brownback has named the CEO of an international business consulting firm as the next Kansas commerce secretary. Brownback's office announced Wednesday that he has selected Antonio Soave of Overland Park for the economic development job. Soave's appointment is subject to confirmation by the Kansas Senate. Soave is chairman and CEO of Capistrano Global Advisory Services. The company helps businesses with mergers, acquisitions and joint ventures and expanding their foreign markets. The Department of Commerce oversees the state's business development efforts. It has an annual budget of $113 million and about 250 employees. If confirmed, Soave will take over as secretary in December. Secretary Pat George resigned in July to become a nonprofit group's CEO. Brownback nominated Leawood businessman George Hansen for the post in August, but Hansen later withdrew.
=======================
Kansas Panel Hunts for Funds to Raise Pay for Corrections Officers
TOPEKA, Kan. (AP) — A legislative study committee recommends that Kansas legislators find state funds to boost the pay of corrections officers in state prisons. The proposal Tuesday from the Joint Committee on Corrections and Juvenile Justice Oversight will go to the House and Senate budget committees when the full Legislature reconvenes in January. Corrections Secretary Ray Roberts told the committee that turnover at Kansas prisons is a serious problem. Roberts said pay is the main issue, with officers at state prisons starting at $13.61 an hour. Each 1 percent increase in pay would cost the state nearly $1 million a year. Committee Chairman, Republican state Representative John Rubin of Shawnee said lawmakers will have to shift the money from other programs in the budget and suggested cutting back on funding for public schools.
=======================
Six-Year-Old Girl Dies After Vehicle Hits Her in Abilene
ABILENE, Kan. (AP) — A 6-year-old girl has died after she was struck by a vehicle in Abilene. The Topeka Capital-Journal reports that the accident occurred Tuesday while the child was walking along an intersection. The Kansas Highway Patrol identified the victim as Tayla M. Womochil, of Abilene. The patrol says the sport utility vehicle was turning left at an intersection when the girl was struck. She was taken to a hospital where she died.
=======================
Kansas Regents Consider New Policy for Guns on Campuses
LAWRENCE, Kan. (AP) - The Kansas Board of Regents is soliciting comments from state universities about a proposal to allow people to have concealed guns on their campuses but not carry the weapons openly. The Lawrence Journal World reportsthat a regents committee has drafted a proposed policy and the full board hopes to vote on it in December. A 2013 state law says adults 21 and older who can carry concealed guns can bring them into public buildings unless those buildings have security measures such as metal detectors. The law allowed universities to exempt themselves until July 2017. Under the proposed policy, each university must have a place for people to securely store their weapons. Each campus also must identify the buildings in which concealed weapons won't be allowed.
=======================
Kansas Official Seeks to Save Funds to Treat Drug Offenders
TOPEKA, Kan. (AP) — The Kansas Sentencing Commission's executive director worries that looming budget problems will pressure the state into cutting funding to treat drug offenders and divert them from prison. Executive Director Scott Schultz told a legislative committee Tuesday that first- and second-time drug offenders who complete treatment programs are far less likely to have another conviction. He said the state can save nearly $21,000 annually for every person who is diverted from state prison. Schultz said he's worried about preserving the nearly $6.6 million a year in funding because of the state's budget situation. State officials and university economists are expected Friday to issue a new, more pessimistic forecast for state revenues.
=======================
Authorities Identify 3 Found Dead at Southeast Kansas Home

FREDONIA, Kan. (AP) — Authorities have identified three people who were found fatally shot outside a southeast Kansas home. Wilson County Sheriff Pete Figgins says deputies found a married couple and the woman's son dead Monday night near Fredonia. The discovery was made after another relative asked the deputies to check on their welfare. Figgins identified the people killed as Eva and Russell Blevins, who were both 43, and 19-year-old Jacob Traylor. Figgins says deputies are not looking for any suspects. The Kansas Bureau of Investigation is assisting with the investigation, and autopsies have been completed. Figgins says he can't immediately provide any details about the identity of the shooter pending further analysis of forensic evidence. Fredonia is a town of about 2,400 residents located about 150 miles southwest of Kansas City.
=======================
U.S. State Department Rejects TransCanada Request for Keystone Delay
WASHINGTON (AP) — The Obama administration says it is continuing a review of the proposed Keystone XL oil pipeline, despite a request by the project's developer to suspend the review. State Department spokesman John Kirby says the department advised TransCanada on Wednesday of its decision to continue the review. The State Department has jurisdiction over the pipeline because it crosses a U.S. border. Kirby says there is no legal requirement for officials to suspend the review, adding that "a lot of interagency work" has gone into the review so far. He says Secretary of State John Kerry believes that it's most appropriate to keep the process in place. TransCanada asked the U.S. to delay consideration of the pipeline, which could put off a decision until the next president takes office in 2017.
=======================
Kansas Football Player Brain Dead After Collapsing
SHARON SPRINGS, Kan. (AP) — The father of a Kansas high school football player who collapsed on the sidelines during a playoff game says his son is on life support but has no brain activity. David Schemm held a news conference Wednesday outside Swedish Medical Center in the Denver suburb of Englewood, where his son Luke was flown Tuesday night. He says the Wallace County High School senior had just scored the point after a touchdown and ran to the sidelines, where he collapsed. Schemm says his son had no prior health issues. He doesn't know what caused his injuries. A hospital spokeswoman says Luke is being kept on life support so family and friends can pay their respects. She says he has been declared brain-dead.
=======================
Passenger on Diverted Flight Charged After Dispute
WICHITA, Kan. (AP) — A passenger who threatened to bring down an American Airlines flight faces a federal charge stemming from an inflight dispute that escalated after he was forbidden to smoke an electronic cigarette. A federal court filing shows 38-year-old Jason Baroletti of Holbrook, New York, was charged Wednesday with one count of interfering with the performance of a flight crew. Court records do not indicate an attorney. The disruption caused American Airlines to divert a Phoenix-to-New York flight Tuesday evening to Wichita, Kansas. An FBI affidavit contends Baroletti became agitated and threatened to kill a passenger after flight attendants refused to serve him beer, which he claimed he needed for anxiety. Baroletti told an FBI agent he is not a terrorist.
=======================
Police: 2 Teens in Custody for Woman's Stabbing Death
LEE'S SUMMIT, Mo. (AP) — Two suburban Kansas City teenagers are in custody in connection with the stabbing death of a 43-year-old woman. Lee's Summit police announced Wednesday that the suspects are 13 and 14 years old and live in Lee's Summit. They were identified after surveillance video was released to the media. Police say an officer tried to stop a vehicle at 1:15 am Sunday on suspicion of driving while intoxicated, but the vehicle pulled into an apartment complex parking lot and two males fled. The officer chased the suspects but lost sight of them and returned to the vehicle, where he found Tanya Chamberlain of Lee's Summit dead in the passenger seat. Charges are pending with Jackson County (Missouri) Family Court. Police say they are confident everyone involved in Chamberlain's death is in custody.
=======================
All 4 Living Ex-Presidents Join Eisenhower Memorial Commission
TOPEKA, Kan. (AP) — The four, living ex-U.S. presidents are all now on a committee working to commemorate President Dwight D. Eisenhower. The Eisenhower Memorial Commission announced that ex-president Bill Clinton had joined Jimmy Carter, George H.W. Bush and George W. Bush on the commission. Former Senator Bob Dole of Kansas announced in September he would lead a private fundraising campaign to collect $150 million for a national memorial to Eisenhower on the National Mall in Washington D.C. Congress first approved a national memorial to Eisenhower in 1999 but it has been stalled by debates over its design. Dole and Senator Pat Roberts of Kansas say they are determined to get the memorial funded and construction started in the near future.
=======================
Kansas Raises Rents on Agencies in State Office Buildings
TOPEKA, Kan. (AP) _ Kansas has recently raised the rent by more than 25 percent for agencies housed in state office buildings. The Topeka Capital-Journal reports that the Department of Administration began charging higher rents this summer. According to documents obtained by the newspaper, rent was increased about 27 percent for the current fiscal year, beginning July 1, compared to the previous year. That is a jump from $15.25 per square foot in fiscal year 2014 to $19.40 per square foot in fiscal year 2016. Department of Administration spokesman John Milburn said fewer tenants in the Docking State Office Building, which sits west of the Statehouse, are part of the reason for the rent increase. He said the department had agreed to reduce rates for two years to help agencies with their budgets, and the two-year period was up.
=======================
Teacher Resigns After Conway Springs Anti-Bullying Video Upsets Parents
CONWAY SPRINGS, Kan. (AP) — A Conway Springs teacher has been asked to resign after showing students an anti-bully video that depicts a dystopian society in which homosexual children bully heterosexual children. Conway Springs Middle School social studies teacher Tom Leahy is on leave and says he likely won't return to teaching because the controversial video "upset too many people." Leahy said he showed the independent film "Love Is All You Need" to three eighth-grade history classes as a lesson in tolerance last month. The Wichita Eagle reports the school board is expected to accept Leahy 's resignation at its November 9 meeting.
=======================
Former President Clinton to Speak at Pittsburg State University
PITTSBURG, Kan. (AP) - Pittsburg State University says former President Bill Clinton will be speaking at the university later this month. Pittsburg State President Steve Scott said Tuesday that Bill Clinton is scheduled to speak November 23 at the university as part of a speaker series. The Pittsburg Morning Sun reports that tickets for the event will go on sale Monday. Clinton, who served as president from 1993 to 2001, is also scheduled to speak at the University of Kansas the same day as he receives the 2015 Dole Leadership Prize.
=======================
Royals Celebration Shatters Expectations in Kansas City
KANSAS CITY, Mo. (AP) — The crowd that flooded downtown Kansas City for a Royals' World Series championship celebration has shattered expectations. City officials on Wednesday increased estimates of the size of the crowd at Tuesday's rally and parade to 800,000. That's about four times the number of people officials had expected. Kansas City has a population of about 470,000, with a metropolitan area of about 2 million. City spokesman Chris Hernandez called the festivities the largest in the history of Missouri. Downtown businesses turned their conference rooms into parade-viewing areas. Hundreds of patients at a downtown hospital canceled appointments. And many schools closed for the day. Greater Kansas City Chamber of Commerce spokeswoman Pam Whiting says "not a lot of work got done," although everyone was in a "fabulous mood."
=======================
Royals Decline Options on Rios, Guthrie After World Series
KANSAS CITY, Mo. (AP) — The Kansas City Royals have declined mutual options on right fielder Alex Rios and starting pitcher Jeremy Guthrie, beginning the reshaping of their team one day after celebrating their World Series triumph with a downtown parade. Other decisions loom Wednesday: All-Star reliever Wade Davis, All-Star shortstop Alcides Escobar and outfielder Jonny Gomes have club options, while Alex Gordon has a player option worth $13.75 million after the All-Star outfielder achieved a series of escalators. The 34-year-old Rios had a $12.5 million option with a $1.5 million buyout, while the 36-year-old Guthrie had a $10 million option with a $3.2 million buyout. Both moves had been expected. Rios struggled much of the season, though he contributed a few key hits in the World Series. Guthrie was left off every postseason roster.