Headlines for Tuesday, September 1, 2015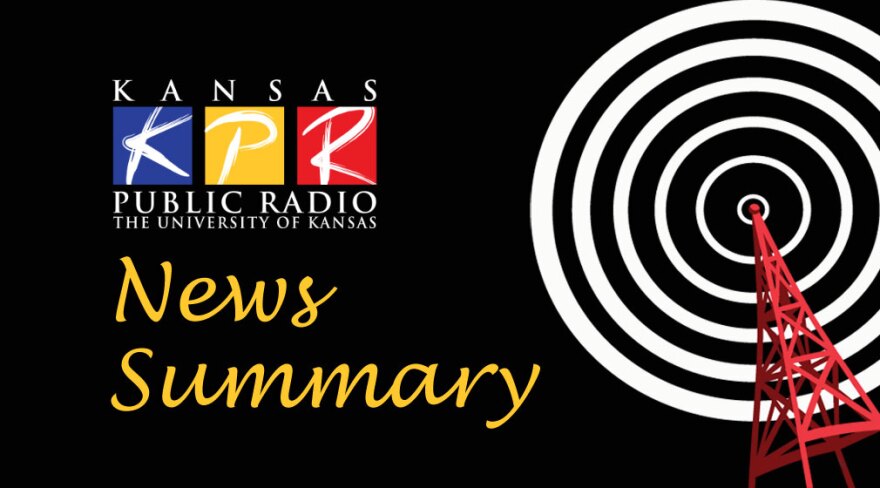 Kansas Tax Collections $30M Short of Expectations in August
TOPEKA, Kan. (AP) — Kansas collected $30 million less in taxes than anticipated in August, but officials said larger-than-expected income tax refunds were largely the reason. The state Department of Revenue reported Tuesday that tax collections were about $418 million last month, compared with the official projection of $448 million. The shortfall was 6.8 percent. Budget director Shawn Sullivan noted during a news conference that the shortfall was offset by budget adjustments he announced last month. When those adjustments are considered, the state's total revenue shortfall was roughly $6 million. Department of Revenue officials said the state paid out $22 million more than expected in income tax refunds. The figure included nearly $14 million to a company receiving a corporate income tax credit for investing in its Kansas facilities. Officials declined to name it.
=========================
Brownback Nominee for Kansas Commerce Secretary Withdraws
TOPEKA, Kan. (AP) — Governor Sam Brownback's nominee for Kansas commerce secretary has withdrawn from consideration for the job over what the governor's office says is potential conflicts of interest. Brownback's office announced Tuesday that Leawood businessman George Hansen asked the Republican governor not to submit his appointment to the state Senate for confirmation. The governor's office said Hansen cited what he called extensive business dealings between the state Department of Commerce and a member of his extended family. Hansen said in a news release distributed by the governor's office that Brownback needs a full-time commerce secretary and not someone who would have to continually remove himself from decisions.Brownback appointed Hansen last month after Pat George stepped down as secretary. Hansen has been president and CEO of a Johnson County venture capital organization.
=========================
Miller Convicted of Murder in Kansas Hate Crime Killings
OLATHE, Kan. (AP) - Deliberations begin today in the sentencing phase of the trial of an avowed white supremacist. A Johnson County jury convicted 74-year-old Frazier Glenn Miller Jr. Monday of killing three people at Jewish centers in Overland Park last year. Jurors deliberated for about two hours before returning their verdict. Miller admitted that he killed the three people in April 2014, but argued that he was compelled to do it because he believes Jewish people are trying to wipe out the white race. At the time of the slayings, Miller apparently did not realize that none of the victims was Jewish. Miller had been representing himself after firing his lawyers in May. The same jury that convicted him Monday will begin deliberations today on whether to recommend the death penalty.
=========================
UPDATE: U.S. Supreme Court Won't Stop Missouri Execution
ST. LOUIS (AP) _ The U.S. Supreme Court says it won't stop the scheduled execution of a man convicted in the 1989 kidnapping, rape and stabbing death of a 15-year-old girl in Kansas City. The justices issued orders Tuesday evening denying a stay of execution for 50-year-old Roderick Nunley. He's set to be executed at 6 pm Tuesday for the death of Ann Harrison. Investigators say the girl was randomly targeted as she waited outside her home for the school bus. She was taken to a home, raped and fatally stabbed. Nunley's attorney had three appeals pending before the Supreme Court. One questioned the constitutionality of the death penalty Another argued Nunley should've been sentenced by a jury, not a judge. A third took issue with Missouri's process of secretly acquiring its execution drug.
====================
Kansas Man Sentenced to 20 Years for Airport Bomb Plot
WICHITA, Kan. (AP) — A Kansas man who plotted a suicide bomb attack aimed at causing "maximum carnage" at a Wichita airport has been sentenced to 20 years in prison. Terry L. Loewen apologized Monday during his sentencing to his family for the pain he had caused them. The 60-year-old Wichita man pleaded guilty in June to attempting to use a weapon of mass destruction. U.S. District Judge Monti Belot imposed the sentence after a plea deal. The avionics technician was arrested during an FBI undercover operation in December 2013 when he tried to bring a van filled with inert explosives onto the tarmac at Mid-Continent Airport.
====================
Lawsuit Accuses Lawrence Memorial Hospital of Falsifying Records
LAWRENCE, Kan. (AP) - A former nurse alleges in a lawsuit that Lawrence Memorial Hospital falsified records to increase Medicare and Medicaid payments. The Lawrence Journal-World reports a lawyer for Megen Duffy, a former emergency room nurse at the hospital, filed the "whistleblower" lawsuit in federal court in Kansas City, Kansas. The lawsuit alleges that the fraud started as early as 2007 and involved falsifying arrival times of patients with chest pains to increase federal payments. Duffy worked at LMH from 2009 to 2013, when she was fired. The hospital denies the claims.
=========================
Kansas State University to Celebrate Seaton Hall Groundbreaking
MANHATTAN, Kan. (AP) — Kansas State University is planning a groundbreaking ceremony for a $75 million renovation of expansion of a 100-year-old campus building. The ceremony for the Seaton Hall renovation is scheduled for Friday at 11 am. The building houses the College of Architecture, Planning & Design, or APDesign. The project is being paid for with $60 million in state bonds and $15 million in private gifts and student fees. The project on the 194,000-square-foot project is expected to be ready for fall classes in 2017. Tim de Noble, dean of APDesign, says the project will turn Seaton Hall into an environmentally sensitive and technically innovative building. The project also will include improved security and technology. The Regnier family's V+H Charitable Foundation made a lead gift of $4 million to the project.
=========================
K-State Students to Sign 'Sportsmanship' Pledge After Melee Last Season
MANHATTAN, Kan. (AP) - Kansas State students will have to sign a sportsmanship pledge before they can pick up their tickets for sporting events this year. The pledge requires students to refrain from using profanity and inappropriate chants and to show respect for all athletes, coaches, fans and officials. The Wichita Eagle reportsKansas State's sportsmanship pledge is the first in the Big 12 Conference. The pledge comes after students clashed during a Kansas State-Kansas basketball game last season in Manhattan. Students chanted inappropriate language during the game and stormed the court afterward. One Kansas State student was accused of intentionally bumping a KU player. Kansas State officials say students who behave badly during games will be dealt with on a case-by-case basis.
=========================
Kansas Crops Making Progress as Harvest Nears
WICHITA, Kan. (AP) - The latest federal government progress report on Kansas agriculture shows more crops maturing as the fall harvest nears. The National Agricultural Statistics Service reported Monday that 16 percent of the Kansas corn crop was now mature. About 57 percent of the state's corn crop is in good to excellent condition, with 32 percent rated as fair. The agency also reported that 2 percent of the sorghum in the state has matured and soybeans also are mostly faring well with 81 percent now setting pods. About 88 percent of sunflowers in Kansas are now blooming.
=========================
August Economic Survey Suggests Slow Growth Ahead for Midwest States
OMAHA, Neb. (AP) - An August survey suggests there will be little or no economic growth over the next three months in a nine Midwestern and Plains states. A report issued today (TUE) says the overall Mid-American Business Conditions Index dropped to 49.6, compared with 50.6 in July. The survey indicates that Arkansas, Iowa, Minnesota, Missouri and South Dakota companies reported growth last month, but businesses in Kansas, Nebraska, North Dakota and Oklahoma reported less economic activity. The monthly report compiles responses from regional supply managers into an index ranging from zero to 100. Any score above 50 suggests economic growth. A score below that suggests decline. The survey covers Kansas, Missouri, Oklahoma, Arkansas, Iowa, Nebraska, Minnesota, North Dakota and South Dakota.
=========================
Trial Date Set in Wyandotte County Deputy Shooting
KANSAS CITY, Kan. (AP) — A January trial date has been scheduled for three men accused of trying to kill a Wyandotte County sheriff's deputy. The Kansas City Star reports that Wyandotte County Deputy Scott Wood was shot March 4 at a convenience store. The three men charged with attempted capital murder in the shooting are 18-year-old Charles D. Bowser, 24-year-old Dyron M. King, and 35-year-old Cecil D. Meggerson. Wood was driving home from work when he stopped at the convenience store. Three robbers soon walked in. Wood was shot several times and survived. The three men are being held on $1 million bond on charges of attempted capital murder. Their trial is scheduled to start January 25.
=========================
Kansas Man Charged with Raping Child Hires New Attorney

TOPEKA, Kan. (AP) — An upcoming trial for a Topeka man accused of kidnapping and raping an 8-year-old child has been delayed. The Topeka Capital-Journal reports that Jeremy James Lindsey faces several charges, including rape, aggravated kidnapping and aggravated burglary stemming from the alleged kidnapping and sexual assault of the child in September 2014 in southeast Topeka. His trial was scheduled to start Monday, but was delayed when Lindsey sought to fire his attorney, who also had filed a request to withdraw from the case. His new attorney is Don Hoffman. A new jury trial date will be scheduled Thursday. A co-defendant, 24-year-old Michelle Harris, is charged with aggravated kidnapping and aggravated endangering of a child. Harris will next be in court Sept. 9 for a pre-trial hearing.
=========================​
Feds Charge Kansas Priest with Bank Fraud over Parish Thefts
WICHITA, Kan. (AP) — A Kansas priest has been charged with alleging stealing nearly $151,000 from his two parishes and the Catholic Diocese to fund his extensive gambling. A criminal information filed Tuesday in U.S. District Court in Kansas charges Father Thomas H. Leland with bank fraud. The court issued a summons for a September 23 initial appearance. Leland was assigned in 2010 as the sole priest at St. Francis Parish in St. Paul and St. Ambrose Parish in Erie, both located in southeast Kansas. Court records do not show a defense attorney, and church officials had no contact information for him. Prosecutors allege that between 2012 and April 2014, Leland embezzled funds by taking overpayments of his salary and of stipends for conducting Mass. He also alleged took unauthorized reimbursements for personal expenses.
=========================
Man Resentenced in Double Fatal Crash Near Manhattan
MANHATTAN, Kan. (AP) — A former Kansas State University student who drove drunk and killed two people in a head-on collision has been resentenced. KMAN reports that Miles Theurer was sentenced Monday to concurrent sentences of three years and five months on two counts of involuntary manslaughter, followed by three years' probation. Police say Theurer was driving the wrong way in May 2012 on Kansas 18 while returning to Manhattan after a night of drinking in Junction City. His truck hit another car, killing its occupants, 31-year-old Elizabeth Young and 30-year-old Michael Stanley. Theurer was originally sentenced to 60 days in jail followed by probation and house arrest. The state appealed and a Kansas appeals court in November ordered a resentencing, saying the judge relied on incorrect legal standards in imposing the lighter sentence.
=========================
Man Dies After Being Hit by Vehicle in Kansas City, Kansas
KANSAS CITY, Kan. (AP) — Kansas City, Kansas, police are searching for a vehicle that fled the scene after a pedestrian was fatally injured. Police say in a news release the man died early Tuesday after being hit in Kansas City, Kansas. The man's identity has not been released. No other details were released.
=========================
K-State Picks Sophomore Jesse Ertz to Start at Quarterback
MANHATTAN, Kan. (AP) — Kansas State University sophomore Jesse Ertz has won a four-way competition to start at quarterback Saturday in the season opener against South Dakota. Ertz beat out junior Joe Hubener and freshman Alex Delton, who were listed as co-backups on the depth chart released Tuesday. Junior college transfer Jonathan Banks was also in the mix but chose to redshirt rather than sit deeper on the chart. Ertz was the third-string quarterback behind Jake Waters and Hubener a year ago, and has never attempted a college pass. He appeared in four games a year ago, running seven times for 46 yards in the Wildcats' option-style offense. Kansas State coach Bill Snyder pointed to consistency as one of the reasons Ertz won the job.
=========================
Kansas City Royals Hit by Chickenpox Outbreak
KANSAS CITY, Mo. (AP) — Kansas City Royals All-Star pitcher Kelvin Herrera and right fielder Alex Rios have been diagnosed with chickenpox, raising concerns that others on the AL Central-leading team may have been exposed. Team officials said Tuesday that Herrera and Rios will likely miss a couple of weeks as the season wraps up. Both players were sent home from Tampa Bay after experiencing symptoms over the weekend. The Royals have reached out to players, coaches and their families to determine whether anyone else has had chickenpox or may be at risk. The disease is highly contagious, spread through the air via coughing or sneezing and sometimes by touching. It causes a blister-like rash, fever and tiredness. It can be serious for people with weakened immune systems.
=========================
Royals Activate Gordon, Welcome Gomes to Kansas City
KANSAS CITY, Mo. (AP) — The Royals activated All-Star outfielder Alex Gordon from the disabled list and welcomed new outfielder Jonny Gomes in a series of moves before Tuesday night's game against Detroit. The Royals also recalled infielders Christian Colon and Cheslor Cuthbert along with catcher Francisco Pena from Triple-A Omaha, and outfielder Terrance Gore from Double-A Northwest Arkansas. Right-hander Miguel Almonte and left-hander Scott Alexander also joined the club from Omaha. Gordon has been out since July 8, when he crumpled to the warning track while chasing down a fly ball in a game against Tampa Bay. He had spent eight games rehabbing in Omaha. Gomes was acquired late Monday in a trade with Atlanta.