Headlines for Monday, April 13, 2015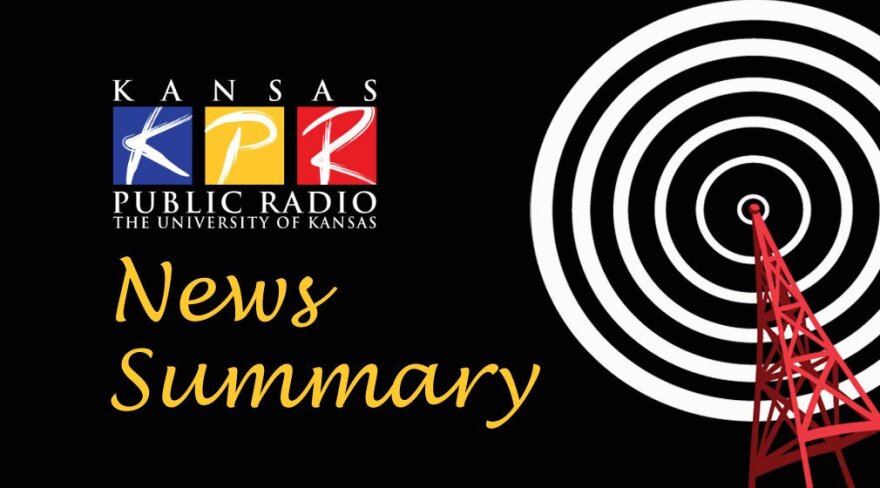 State Agency Slams 'Left' in Facebook Post on Welfare Reform
TOPEKA, Kan. (AP) — A state agency is catching heat for social media comments that some say were too partisan. A Friday post on the Facebook page of the Kansas Department for Children and Families accused the left of "mocking the State of Kansas" and said it has "stood in the way of progress." The post defended restrictions approved by the Legislature in April on how welfare recipients can spend their money. Republican Governor Sam Brownback is expected to sign the restrictions, which have been criticized by pundits and comedians as unnecessary and demeaning for poor people. DCF spokeswoman Theresa Freed said the post was an appropriate response pointing out facts to "liberal media organizations and activists." She noted thousands of welfare recipients have found jobs under the program.
====================
Anthem Subsidiaries Face Lawsuit in Kansas over Data Breach
TOPEKA, Kan. (AP) — A former candidate for Kansas governor says he and other lawyers suing two subsidiaries of health insurer Anthem can show individuals were harmed by a cyberattack on its computer networks. Paul Davis is a partner in one of three law firms that filed the lawsuit this month in Douglas County District Court for a Kansas City, Kansas, woman. Davis was the Democratic nominee for governor last year, narrowly losing to incumbent Republican Sam Brownback. The lawsuit cites future potential harm to the woman, but Davis said Monday that her lawyers plan to add other individuals who've been harmed. Anthem spokeswoman Cindy Wakefield said there's no evidence fraud has occurred against clients. An Anthem subsidiary is one of three companies running Medicaid in Kansas. A similar lawsuit was filed in Missouri.
=====================
2015 Kansas Student Testing Gets a Smooth Launch
TOPEKA, Kan. (AP) — Student testing in Kansas is going much more smoothly than last year. The Topeka Capital-Journal reports that principals and district-level test coordinators in several school districts say issues with Kansas's computerized tests have been "isolated." They say state test developers have promptly addressed problems. Technical troubles and cyberattacks caused widespread concerns last year as Kansas rolled out a new test design and delivery platform. Marianne Perie is the director of the center that develops and administers the Kansas state tests. She said Friday that students have completed about 70 percent of this year's tests since the assessment window opened last month. It continues until mid-May. Topeka school system assessment director Brady Dean says there've been glitches with only a few of the 10,500 tests that district students been started or completed.
======================
Rabies Cases on the Increase in Kansas
MANHATTAN, Kan. (AP) — A Kansas State University laboratory says it is seeing an increase in rabies cases so far this year. The university's Veterinary Diagnostic Laboratory says it had verified 28 positive cases of rabies from January through March, compared with only 10 cases during the same period last year. Rolan Davis, a diagnostician at the lab, says all but five of the 28 cases were found in skunks. Three others were found in cats, one in a bovine and one in a fox. Davis says pet owners should be aware of the increase but it is not a cause for alarm because rabies is always around. Lab officials say the best protection is to vaccinate animals against rabies.
====================
Kansas Ponders New Protections for Campus Religious Groups
TOPEKA, Kan. (AP) — Kansas legislators could enact new legal protections for faith-based groups on state college campuses, even though the state already has a religious objections law. Religious groups argue that the bill they're pursuing this year sets a clearer legal standard and prevents lawsuits. Critics contend schools wouldn't be allowed to withhold support even if groups discriminate based on race or national origin. The state's existing 2013 "religious freedom" law says state or local government agencies can't substantially limit someone's exercise of religion without a compelling reason. It allows lawsuits to challenge government actions. This year's proposal would specifically prohibit state colleges from refusing to provide resources to religious groups for requiring members to profess certain beliefs or adhere to a faith-based code of conduct. The measure has passed the Kansas Senate.
======================
Events Commemorate 1-Year Anniversary of Shootings at Jewish Sites in Kansas
KANSAS CITY, Mo. (AP) — A community walk to celebrate diversity is expected to draw thousands of people to a Jewish Community Center in suburban Kansas City where a man intent on killing Jews began a rampage that left three people dead a year ago. The Faith, Love and Walk event Monday is the culmination of a week of events planned in response to the April 13th, 2014, shooting deaths of 69-year-old William Corporon and his 14-year-old grandson, Reat Underwood, at the community center in Overland Park, and 53-year-old Terri LaManno, who was killed at the nearby Village Shalom retirement home. None of the victims was Jewish. The suspect in the shootings, Frazier Glenn Miller Junior of Aurora, Missouri is charged with capital murder. His trial is scheduled for August 17th.
====================
Former Hostess Bakery in Lenexa to Reopen
LENEXA, Kan. (AP) — A former Hostess Brands bakery in Lenexa will reopen this summer, providing about 100 jobs. Flower Foods, which acquired part of the former plant in 2013, announced it will begin producing its Nature's Own, Wonder and Home Pride breads at the plant. The company says it spent more than $10 million to upgrade the plant. The Kansas City Star reports that bread baked in Lenexa is expected to be sold in Kansas, Missouri and eastern Oklahoma. The plant closed when the former Hostess Brands suspended all operations during a negotiation impasse with the Bakery, Confectionery, Tobacco Workers and Grain Millers International Union. Flower Foods, based in Georgia, bought the former Hostess bread brands and has gradually reopened plants. It currently has 46 bakeries.
======================
Judge Weighs Case of Health Attendant Charged with Murder
LAWRENCE, Kan. (AP) — A judge is considering whether there's enough evidence to try a Lawrence health care attendant with first-degree murder in the death of a man with cerebral palsy. The Lawrence Journal-World reports that Douglas County District Judge Peggy Kittel says she'll issue her ruling May 5th. She made the announcement after the preliminary hearing for 49-year-old Ronald Eugene Heskett ended Friday. Heskett is jailed on $500,000 bond in the asphyxiation death of Vance Moulton. The 65-year-old Moulton had a towel around his head when he was found dead September 12 in his apartment. A Lawrence detective testified that Heskett told investigators the death was an assisted suicide. A former co-worker said Moulton raised concerns about bank statements, although the worker said Moulton never indicated he suspected Heskett of taking money.
====================
Drought Takes Toll on Winter Wheat in Western Kansas
WICHITA, Kan. (AP) — Rains which swept through parts of Kansas this weekend missed vast stretches of parched winter wheat crops in western Kansas. The National Agricultural Statistics Service reported Monday that 28 percent of the wheat in Kansas is in poor to very poor condition. But weather forecasts are predicting heavy rains in western Kansas and eastern Colorado later this week, followed by another generous round of rain expected next week. Western Kansas could receive as much as 3 inches total from those two upcoming storm systems. Agricultural meteorologist Don Keeney of MDA Weather Services says that won't end the drought, but it will be very good for the wheat. The Maryland-based commodity risk firm is now forecasting the 2015 winter wheat crop will come in at 292 million bushels in Kansas.
======================
Kansas City Police: 1 Dead, 1 Injured in Shooting
KANSAS CITY, Mo. (AP) — Kansas City police say one man is dead and another is seriously injured after a late-night shooting over the weekend. Police spokesman Darin Snapp says officers were called to a residence after someone reported hearing gunshots Sunday night. Responding officers found a man in the residence's front yard, and he was pronounced dead shortly afterward. Snapp says a second man suffering from gunshot wounds was located several blocks away and is believed to have been shot at the residence. The man was taken to a local hospital. Snapp says it's not known what led to the shooting. Anyone with information asked to call authorities.
======================
Efforts Underway to Tear Down Closed Wichita Amusement Park
WICHITA, Kan. (AP) — The remains of an amusement park that operated for more than six decades in Wichita are gradually disappearing. The Wichita Eagle reports that Roger Nelson is a member of the family that has owned Joyland Amusement Park since the 1970s. He says efforts are underway to tear down the park "as soon as possible." Metropolitan Area Building and Construction Department director Thomas Stolz says there have been problems with graffiti and trespassing at the park since it closed in 2006. Several buildings have already been demolished and more are scheduled. The remains of the historic wooden roller coaster are being dismantled. The Historic Preservation Alliance of Wichita and Sedgwick County is negotiating to buy a section of the track and some coaster cars.
====================
Wichita Man Sentenced for Dealing Marijuana
WICHITA, Kan. (AP) — A Wichita man has been sentenced to 12 years in prison for dealing six tons of marijuana over a two-year period. Jeremy Harris pleaded guilty to a conspiracy count. Two co-defendants in the case got sentences of six years and a little over seven years.
======================
Investigation Ongoing After Body Found in Scrap Yard
KANSAS CITY, Mo. (AP) — Kansas City police say a man's body has been found in a scrap yard behind several houses. Authorities say the body of the man, believed to be around 50 years old, was found Sunday night. Police spokesman Darin Snapp says it appears the man died several days ago. Police say there were no obvious signs of trauma to the man's body. An investigation is ongoing. An autopsy is scheduled for Monday.
======================
Sprint Offering New At-Home Phone Setup
A new customer strategy for Sprint: Phone setup in your house. Overland Park, Kansas-based Sprint has been trying to draw subscribers from its bigger rivals, Verizon and AT&T. Meanwhile, the No. 4 carrier, T-Mobile, is winning customers through discounts and other programs. Sprint's home service starts Monday in Kansas City for customers who are eligible for an upgrade, and will expand to Chicago and Miami next week. More cities are expected. How it works: A Sprint rep will bring a new phone or tablet to a customer's house, transfer over data from an old device and offer advice on how to use it. Sprint is still investing in stores, though. It's building mini-shops in many of the remaining stores of bankrupt electronics chain RadioShack.
======================
Missing Beaver Returns Home to Wichita Wildlife Exhibit
WICHITA, Kan. (AP) — Chappa the beaver has returned home to the Kansas Wildlife Exhibit in Wichita after he had been missing for nearly a week. Director Jim Mason of the Great Plains Nature Center tells the Kansas City Star that Chappa had been found digging along his pen at Central Riverside Park, trying to get back inside on Sunday morning. Mason says the beaver, described as shy and sensitive, may have become startled and wanted to return home after a loud thunderstorm. Chappa was taken in by the exhibit after being found injured and orphaned three years ago in one of the muddy pools of Chisholm Creek Park.
======================
Kansas Cosmosphere Opens Renovated Planetarium
HUTCHINSON, Kan. (AP) — A renovated planetarium at the Kansas Cosmosphere and Space Center is officially open for business. The attraction in Hutchinson held its reopening ceremony and reception Sunday, although it had a soft opening in mid-March. The planetarium closed in early February for the upgrades, which were financed with donations from the Walter E. and Velma G. Justice Foundation for Reno County and Dave and Dee Dillon. The Hutchinson News reports that nearly everything in the planetarium is new, including seating, lighting, digital projectors and the sound systems. Cosmosphere President Jim Remar says it's like upgrading from a cheap car to a luxury vehicle. The renovation will allow the facility staff to eventually create their own programming to share with other planetariums.
======================
Report Gives US Airlines Lower Marks Across the Board
DALLAS (AP) — A new report suggests airlines are flying into a cloud bank when it comes to quality. The report by a pair of university researchers who track the airline business says more flights are late, more bags are getting lost, and customers are lodging more complaints. Dean Headley, a marketing professor at Wichita State and one of the co-authors, says passengers already know that air travel is getting worse and now the numbers bear them out. For example, on-time arrival fell to 76.2 percent last year from 78.4 percent in 2013, while the rate of lost, stolen or delayed bags rose 13 percent in 2014. Consumer complaints jumped 22 percent in 2014 with many of the worst marks going to regional carriers such as American Eagle, United Express and Delta Connection. On-time performance also fell and complaint rates rose at American, United, Delta and Southwest.