Headlines for Monday, March 16, 2015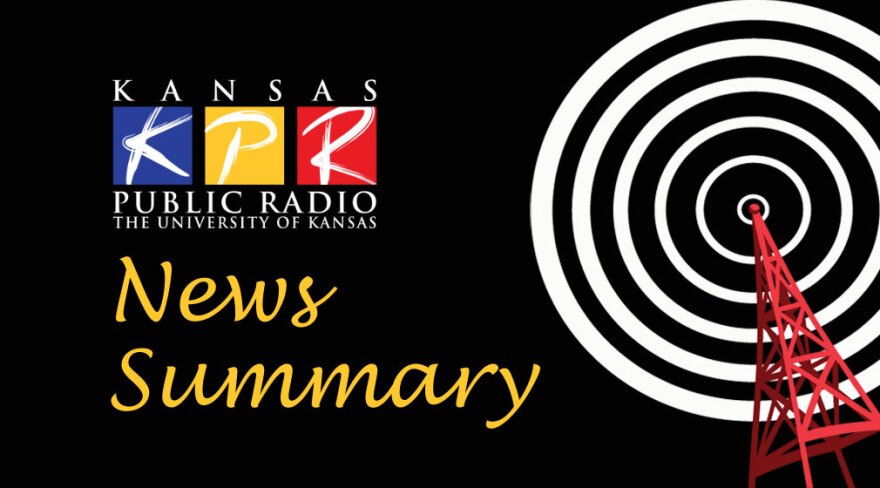 UPDATE: Kansas Senate Passes Brownback's School Funding Overhaul
TOPEKA, Kan. (AP) — Kansas Governor Sam Brownback's $4.1 billion plan to overhaul public school funding has passed through the Senate. The Senate voted 25-14 to approve the measure Monday, but a district court order issued on Friday signaled that the plan may be blocked before it gets off the ground. The three-judge panel issued the order shortly after the school funding plan was passed by the Kansas House. It said the court may block changes to the current school funding formula due to a pending case on whether the state is funding schools at constitutionally adequate levels under the formula. An earlier non-binding ruling by the court said Kansas must spend at least $548 million more on schools. Brownback is expected to sign the bill later this week.
==============================
Kansas Records Law Doesn't Cover Private Emails
TOPEKA, Kan. (AP) — Kansas legislators have shown little interest in allowing public scrutiny of officials' private emails about government business despite scrutiny of Hillary Rodham Clinton's communications and a case involving the governor's office. The Kansas Open Records Act doesn't specifically cover emails or other communications with private accounts or devices, even if they involve government business. Democratic legislators introduced proposals in both chambers of the GOP-dominated Legislature to allow scrutiny of such communications. The proposals were a response to disclosures that Republican Governor Sam Brownback's budget director used a private email account at least twice in December to circulate details about potential budget proposals. Then, Clinton came under scrutiny for using personal email exclusively for official non-classified business as U.S. secretary of state. Neither Kansas bill has received a committee hearing.
===============================
Kansas Panel Moves to Give Fantasy Sports Legal Protections
TOPEKA, Kan. (AP) — A bill that would keep fantasy sports leagues legal amid a dispute with the Kansas Racing and Gaming Commission has moved forward by a state legislative panel. The House Federal and State Affairs Committee endorsed the bill Monday. It would define fantasy sports as a game of skill. The distinction is important because the Kansas Racing and Gaming Commission said in August that fantasy sports meet the criteria of a lottery, which would make them illegal. Under the Kansas Constitution, only the state is allowed to administer lotteries. Republican Representative Brett Hildabrand of Shawnee said he introduced the legislation so ordinary Kansans who enjoy fantasy football would not become criminals. The federal government and 45 states consider fantasy sports legal games of skill. However, five states consider them illegal.
===============================
Bills Relaxing Marijuana Restrictions Stall in Kansas House
TOPEKA, Kan. (AP) - Bills easing the state's restrictions on marijuana are moving deeper into the Kansas Legislature than ever before, but face an uncertain future as the midpoint of the session has passed. The Kansas House decided in late February to delay action on two marijuana bills. One would decrease penalties for an offender's first two marijuana possession convictions. The other allows some seizure patients to receive treatments from marijuana-based medicines. Republican Representative John Rubin of Shawnee sponsored the bill on marijuana sentencing. He said it was delayed because of the timing of Wichita's city election next month in which a ballot measure will ask voters whether to decriminalize first-time possession. The seizures bill passed the House committee. Democratic sponsor Representative John Wilson is seeking necessary votes on the House floor from Republicans.
===============================
Kansas Workers' Comp Changes Raise Lawsuit Fears
WICHITA, Kan. (AP) - Some fear that workers' compensation changes that slash payments to injured Kansans could lead to huge lawsuits. The Wichita Eagle reportsthat changes that took effect January 1 are the issue. People testifying before a Senate committee have raised concerns that the changes could get the law overturned in court, potentially exposing businesses to multimillion-dollar lawsuits that they're now shielded from. Kansas Secretary of State Kris Kobach has said the state's switch to a new medical guide will slash, or in many cases eliminate, payments to injured workers. He and others say that could bring down the entire compensation system and throw workers' cases into the courts. The concern is that damages awarded in court could run into the millions, rather than the thousands they're capped at now.
===============================
Kansas Senate Panel Considers Cutting Green Energy Incentive
TOPEKA, Kan. (AP) — Kansas renewable energy plants would lose their exemption to property tax under a bill discussed by a Senate panel. The Senate Assessment and Taxation Committee held a hearing on the bill Monday. Companies producing energy from wind, solar or other renewable resources have been exempt from property tax since 1999. The bill would instead give those companies a 10-year exemption. Chairman and Republican Senator Les Donovan said that the bill still would provide an incentive for renewable investment, but require those companies to pay their fair share. But representatives of renewable energy companies testified that the bill would amount to breaking a contract with developers. They said it would unfairly punish those who invested in Kansas early, as they would owe back taxes.
==============================
US Agriculture Secretary Touts Moves to Boost Rural Economies
WICHITA, Kan. (AP) — U.S. Agriculture Secretary Tom Vilsack outlined strategies his department is implementing aimed at boosting rural economies. Vilsack told about 470 people attending the National Farmers Union convention in Wichita Monday that agriculture today is 12 times more productive than in 1950 when he was born. That means fewer people are needed on the farm, and there are challenges in keeping people in rural communities. Part of his department's rural strategy is using conservation efforts that create markets. Another is developing local and regional food systems where smaller-sized operators can be profitable by selling in farmers markets, to schools and other local marketplaces. The federal government's plans would also develop rural manufacturing facilities such as bioprocessing plants, which create jobs that pay well. EPA administrator Gina McCarthy also touted biofuels as a major economic engine for rural economies.
===============================
Topeka Businessman Sentenced in Check Kiting Scheme
TOPEKA, Kan. (AP) — A Topeka businessman was sentenced to three years and one month in federal prison for writing more than 5,000 bad checks in a check kiting scheme. Forty-nine-year-old John Charles Humpage III also was ordered Monday to pay more than $538,000 in restitution. The U.S. Attorney's office said in a news release that Humpage pleaded guilty to one count of bank fraud. He admitted that in 2008 he defrauded the Educational Credit Union, Kaw Valley State Bank and Alliance Bank while doing business under several names. He exchanged and cross-deposited more than 5,000 insufficient checks between two or more of his bank accounts, creating more than $78 million in aggregate deposit amounts. Those deposits falsely inflated his bank account balances by more than $600,000.
===============================
Arson Suspected in Series of Southern Kansas Fires
HUTCHINSON, Kan. (AP) - Arson is suspected in 20-mile swath of brush fires in south-central Kansas. Reno County Sheriff Randy Henderson says the first of the 14 fires was reported around 7 a.m. Saturday in the southern part of the county. The Hutchinson News reports that the fires ended near Langdon. Most of the fires were within 2 miles of the same road in open pastures and Conservation Reserve Program grass. No structures were involved in any of the fires. The largest blaze damaged several hundred acres of land. The public is urged to look for suspicious activity.
===============================
Officials Say Slowing Enrollment in Kansas Schools Shows Economic Recovery
TOPEKA, Kan. (AP) — The number of students who enrolled in the Kansas higher education system dropped slightly in 2014, especially among older, non-traditional students which officials say indicates economic recovery. The Lawrence Journal-World reports the overall enrollment at Kansas public institutions, including community colleges and technical schools, fell 2.5 percent from the 2012-2013 academic year to the 2013-2014. The Kansas Board of Regents met last week to discuss enrollment at the state's schools, and officials say that a decline in enrollment by older students indicates that adults are moving back into the workforce. The board also reported that about one-fourth of students who received bachelor's degrees from Kansas institutions in 2014 had attended three or more institutions on their way to that degree. About a third of graduates attended just one institution.
===============================
Controlled Burn in Kansas Jumps River to Grass in St. Joseph
ST. JOSEPH, Mo. (AP) — Wind blew a controlled burn that began in Elwood, Kansas, across the Missouri River and burned thousands of acres in and near St. Joseph. One firefighter was treated for injuries but no serious injuries were reported. Some neighborhoods were evacuated and roadways were closed Sunday afternoon and some of the areas remained closed Monday morning. The St. Joseph News-Press reports that firefighters continued to watch for hotspots on Monday. Mike Neylon, a St. Joseph fire department training officer, said thousands of acres burned. He said firefighters are concerned that winds were expected to increase to 25 mph later Monday. Neylon said no homes had been damaged as of Monday morning. Although it was not damaged, The Remington Nature Center closed Monday and plans to remain closed for two days.
===============================
Topeka Birthing Center Seeks Hospital Transfer Agreements
TOPEKA, Kan. (AP) - A suspended Topeka birthing center is in talks with two hospitals as it seeks to reopen. The Kansas Department of Health and Environment suspended the licence of the Topeka Birth and Women's Center last month. While the center continues to offer some women's health services, it remains unable to deliver babies. An inspection last month found that the 35-year-old natural birthing center was placing women at unnecessary risk. The center says it has addressed almost all of the issues cited in the department's report. Neither Stormont-Vail Hospital nor St. Francis Health has signed an agreement to take transfer patients from the center. Office manager Kelly Greene says that piece is required for the center to get back to deliveries. Representatives from both hospitals said they were considering the transfer agreements, but had yet to reach a decision.
===============================
Suspect Arrested in Junction City Death
JUNCTION CITY, Kan. (AP) - A suspect in a woman's death in Junction City has been arrested in Topeka. Junction City police say in a news release that the 34-year-old man was arrested Sunday by Topeka police. The suspect's name and the details of where he was found were not released. He was arrested in connection with the death of 52-year-old Sharon Moody, whose body was found Sunday afternoon at her Junction City home. Her cause of death was not released. An autopsy is scheduled for Monday. The suspect is being held without bond at the Geary County Detention Center.
===============================
Attorney Seeks 2 Trials for Man Accused of 2 Murders
SALINA, Kan. (AP) — A Saline County District Court judge is expected to rule next week whether a Salina man will receive separate trials for two homicides he is charged with committing during the same week in 2009. An attorney for 33-year-old Willie J. Parker argued last week that Parker should have the two trials because the two deaths have little in common. Judge Rene Young is expected to rule on the motion March 23. Parker was found guilty in one trial in 2010 of premeditated first-degree murder for the death of 24-year-old Alfred Mack Jr., and intentional second-degree murder for the death of 22-year-old Justin Letourneau. The Salina Journal reports the Kansas Supreme Court reversed Parker's convictions in December, citing errors in his previous trial. Parker is scheduled for retrial April 27.
===============================
KS Highway Patrol Issues Increased Number of Seatbelt Citations
TOPEKA, Kan. (AP) — A seatbelt citation campaign aimed at teenagers resulted in more than twice as many citations this year than in 2014. Kansas Highway Patrol troopers and law enforcement officers across the state issued 265 seatbelt citations to teen drivers during an enforcement action between Feb. 23 and March 6. The effort put special emphasis on patrols around Kansas high schools. The campaign also issued 344 citations to adult drivers, as well as 42 child-restraint citations and 224 other citations such as outstanding warrants, texting violations and speeding. The patrol said in a news release the same campaign in 2014 resulted in 123 seatbelt citations to drivers ages 14 through 17, while the citations to adults decreased from 493 issued last year.
===============================
Author Gillian Flynn Will Lead Kansas City's St. Patrick's Day Parade
KANSAS CITY, Mo. (AP) - Author Gillian Flynn will return to her hometown to be grand marshal of the city's 43rd St. Patrick's Day Parade. Flynn, author of the best-selling novel "Gone Girl," grew up in Kansas City. She'll lead Tuesday's event, which will include about 110 entries parading through parts of central Kansas City. The Kansas City Star reports this year's parade will give people a chance to pay a small fee to vote on their favorite float. The money will go to Harvesters Community Food Network. Parade organizers are expecting large crowds, with temperatures forecast to in the 60s and many local school districts on spring break this week.