Friday, December 14th, 2018, by KPR Staff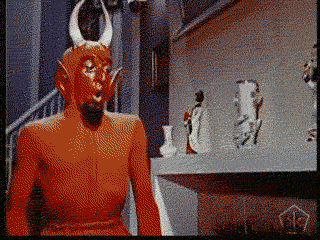 Christmas comes to Cinema a Go-Go with a pair of utterly bizarro movies for the holiday season at Liberty Hall on Friday, December 14! 
From Mexico comes Santa Claus (1959) which might be more appropriately titled Santa Claus vs. Satan. Santa spies on kids, runs a sweatshop toy factory and has a bunch of creepy, wind-up reindeer who emit terrifying laughter. 
In the B-movie classic Santa Claus Conquers the Martians (1964), the Jolly Old Elf gets himself kidnapped by Martians, who are hankerin' for a little Christmas of their own. 
Both of these goofy masterpieces were favorites on Mystery Science Theatre 3000. Now you can enjoy both in their mind-warping and (mostly) uncut madness. 
Join us at Liberty Hall in downtown Lawrence, Friday, December 14. Tickets are $10, available at the doors, which open at 6:30 p.m. 
Sign up on the Facebook event page!