A scrappy newscast in Kyiv aimed at Russians counters Putin's propaganda machine
KYIV, Ukraine — Ilya Ponomarev was the only member of the Duma, Russia's lower house of parliament, to vote against Vladimir Putin's annexation of Crimea in 2014.
Today the 48-year-old former parliamentarian from the Siberian town of Novosibirsk is running an online television channel out of the Ukrainian capital Kyiv to counter Russian propaganda.
Ponomarev's goal is nothing less than to foment an uprising against Vladimir Putin's regime in Russia.
NPR meets Ponomarev in his studio, where a team of Ukrainian and Russian journalists, technicians and TV anchors are hard at work.
The channel, called February Morning (a reference to when the invasion began), also runs dozens of Telegram channels — the news messaging app where most Russians get their information about the war.
Ponomarev believes the war in Ukraine can only end with the total military defeat of Russia.
"To destroy this army, to destroy the regime, to dismantle the empire and to create a new country," he says. "That's the only way. I think there will no longer be a Russian Federation as we know it. There will be a new country with a new name. Russia has to be re-created."
The renegade member of Russia's parliament became an involuntary exile
After casting his fateful vote in March nine years ago, Ponomarev went on a business trip. Russia blocked his return.
He lived first in the U.S. and moved to Ukraine in 2016. That's when Ponomarev says he began thinking about a Russian-language TV channel.
"At that time it was in my mind like a Russian-language Al Jazeera headquartered in Ukraine," he says. "A tool of influence in all the Russian-speaking world."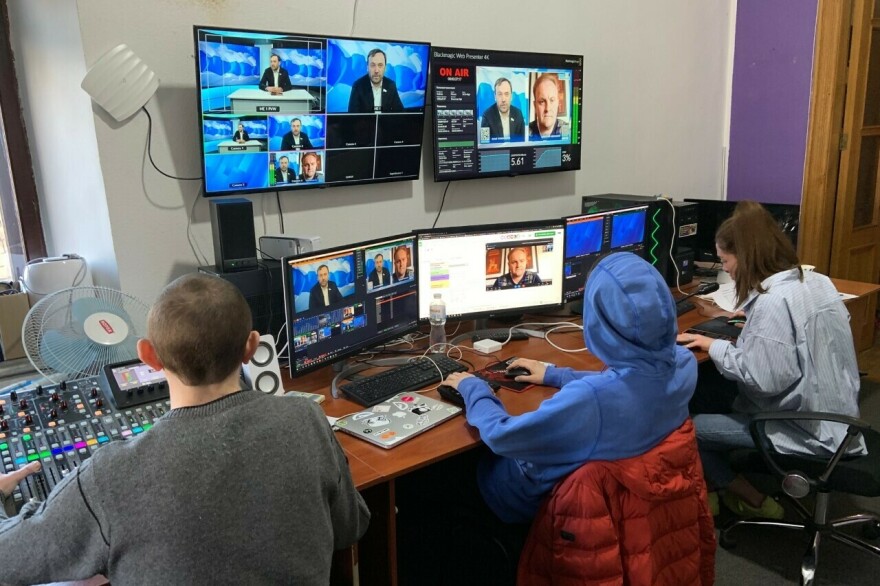 Ponomarev says he couldn't find interested investors. Then the war broke out so he decided to start a channel with his own money.
Less than a month after the invasion, February Morning was born. It is broadcast on YouTube and he says 60% of its audience is in Russia.
"It's the only TV channel which is firstly targeted toward Russians in Russia," he says. "Not the Russian diaspora, not the political class but ordinary Russians in Russia."
The network hired correspondents in 32 Russian regions who work anonymously. He says there are now up to 10 million viewers a week.
Larysa Rybalchenko is the network's chief editor. She's from the Donbas region of Donetsk and says her hometown is now occupied by the Russians. She worked for Ukrainian channels in the past, until she met Ponomarev.
"I understood that his idea to oust Putin's regime was very cool," she says. "This is different. This is special. It's a special mission for me."
Each day brings fresh untruths from Moscow to unpack
Countering the Kremlin's propaganda is a round-the-clock job, says Rybalchenko.
On the day of NPR's visit the network is busy countering a speech Putin made, claiming the Russian economy is doing fine and that international sanctions aren't having their intended effect.
In response, February Morning airs an interview with a Russian economist based in Cyprus, with a starkly different take.
Going up against a state-sponsored propaganda machine means directly challenging Russians' view of themselves. Ponomarev says it's not easy for Russians to acknowledge their country launched an unjust war.
"For an ordinary guy psychologically to understand that he's at fault is very hard," he says. "But everybody who has a Russian passport is at fault. Because it's our president, it's our taxes, it's our army. It's we who invaded Ukraine."
Nostalgia for Soviet times is only a tiny part of why Russians are going along with the invasion, he says. Putin is playing on memories of the 1990s.
"People remember quite well that in the 90s they were not paid wages, there were no pensions and no social care subsidies and Putin [restored] all this," he says.
Ponomarev says in exchange Putin demands people stay out of politics.
"He convinces people that anyone who is against him wants to bring back the 90s and Boris Yeltsin," says Ponomarev. "Putin has managed to equate being pro-Western with being poor and corrupt."
The Russian president maintains there is no alternative to his rule. "The alternative," says Ponomarev, "is going back to the 90s' misery, poverty and chaos."
Ponomarev's vision is a Russia without Putin and a democratic regime
Ponomarev moves around Kyiv in an armored vehicle and has a bodyguard. Not because he fears Ukrainians. A series of assassinations has shown that a Kremlin critic, even outside Russia, is never safe.
"I'm very high-profile here and people like me," he says. "They hug me on the streets, they appreciate what I've done in Ukraine and in this regards I am extremely comfortable."
Ponomarev also believes the return of Crimea to Ukraine is inevitable.
"I agree that it's a red line," he says. "But it is not a red line for the world, it is a red line for Putin."
He says Crimea is Ukrainian land and Ukrainians are totally in their right to reclaim it. He offers a hypothetical to explain why Ukrainians refuse to accept the annexation.
"It's like if somebody would occupy Florida," he says. "And you would say, 'Oh it's just a peninsula, just forget about it somebody else will use it.' "
Ponomarev says for the last two decades Putin has been victorious in everything he's done. But that's changing. He says Russians see they're not winning the war.
"Obviously the propaganda is saying things are fine," he says. "But people do see the map. They see that the Russian army is not advancing. They see that for like nine months they are fighting for the minuscule town of Bakhmut that they cannot win. They see Russia was kicked out of Kharkiv and pulled back from Kherson."
Editor Rybalchenko says the hate mail from viewers who accuse them of lying has made her think about giving up at times. But she takes heart from the larger number of comments now coming from the other side.
"Many people write us from Moscow, from [St. Petersburg], from Volgograd, and they write that 'we are in Russia but we believe that you are right and the Ukrainians will win this war.' "
This war won't end in Ukraine, says Ponomarev. It will end in Moscow.
Copyright 2023 NPR. To see more, visit https://www.npr.org.