A conversation with Scott Horsley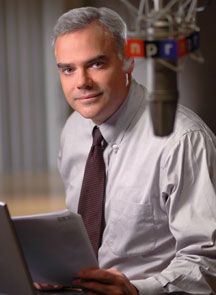 (Photo by Steve Barrett)
On Tuesday, March 12, NPR's White House correspondent Scott Horsley will sit down for a chat with Bill Lacy, Director of the Dole Institute of Politics, to reflect on the 2012 campaign.
You're invited to join in the conversation. The event starts at 7:30 p.m. at the Dole Institute.
You've heard Scott's reporting on Morning Edition and All Things Considered, but we have a few questions for the veteran reporter before he comes to Kansas.
Q: What was your favorite moment from the 2012 campaign trail?
There are a lot to choose from, but one of my favorite memories is from a rally in Roanoke, Virg. It was a lovely summer night, after a long day of campaigning. There was a good band to warm up the crowd, and in the middle of his usual stump speech, the president started riffing about the nature of cooperative success. "When we succeed, we succeed because of our individual initiative," he said, "but also because we do things together." He was standing outside a picturesque downtown fire station, and he asked, "Imagine if everybody had their own fire service. That would be a hard way to organize fighting fires."
This was the speech that was later caricatured over the president's phrase, "you didn't build that." But unlike a lot of manufactured controversies during the campaign, this one really got to something fundamental in the different world views of the two candidates and the two parties. "I still believe," the president said, "you're not on your own. We're in this together."
Another favorite memory was serving the president a piece of my mom's homemade zucchini bread on Air Force One in the midst of a 36-hour, cross-country campaign blitz. He liked it so much, he wrote her a thank-you note.
Q: What issues do you think were over-reported and under-reported?
Anything involving Donald Trump, Herman Cain or Michele Bachmann was over-reported. Under-reported was any genuine policy prescription for stagnant income among the middle class. (Still waiting.)
Q: What do you like to do with any down time you have on the campaign trail? Explore the town, read, listen to music?
Down time? I usually try to have a book with me that is NOT about politics. And I have gotten more disciplined about trying to exercise. When the campaign bus pulls into a hotel at 11 p.m., I can only marvel at the younger reporters who are making plans to enjoy the local nightlife.
Q: What else should the media be doing to engage voters in civic discourse rather than shouting their already established positions?
We should vow not to begin covering the 2016 presidential campaign until 2016. And we should not begin covering the midterm elections until the MIDDLE of the current Congressional term. We should devote as much, if not more, attention to governing as we do to campaigning. (I am not optimistic that any of these prescriptions will take hold.)
Q: What do you think might surprise the public the most about any of the presidential candidates you have covered?
They're human, try as they might to hide it.
Q: What changes, if any, would you make to the system of televised presidential debates we currently have?
I thought the 2012 debates were pretty good. I might make NPR alum Martha Raddatz (now with ABC) a permanent moderator. And I might suggest that reporters covering the debate ignore Twitter for the 90 minutes the candidates are speaking.
Q: If you could be a White House correspondent for any U.S. president, who would it be and why?
Covering President Obama is a pretty good gig. Although I understand Franklin Roosevelt occasionally wrote copy for reporters when they missed the train, which would be nice.
Q: If you weren't a journalist, what would you do?
I actually stumbled into this business without ever having to get a real job. So I'm probably not qualified to do anything else. Actually, that's not true. When I first started out at NPR as an overnight tape-cutter, I also worked part-time at a McDonald's down the street. I got pretty good at making Quarter Pounders. So when the White House assignment comes to an end, I've always got that to fall back on.